Eddie Lampert Wants to Save Sears but Mall Owners Say Don't Bother
Original article published by The Wall Street Journal
Many landlords have lost faith in the company's chairman and say the department store's brand is outdated.
Eddie Lampert is trying to restructure the department-store chain, aiming for Sears to emerge from chapter 11 as a stronger brand with a smaller store footprint.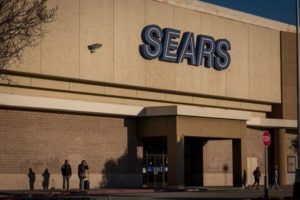 PHOTO: DAVID PAUL MORRIS/BLOOMBERG NEWS
By Esther Fung and Lillian Rizzo
Jan. 8, 2019 9:00 a.m. ET
Shopping center owners usually dread the prospect of a big retail operator shutting its doors. In the case of Sears Holdings Corp., many landlords are welcoming it.
That is in large part because these owners have lost faith in Sears chairman Eddie Lampert, his plans to salvage the company and a brand that they view as outdated, many big landlords and retail analysts say.
"I think the country's financial and shopping center executives are tired of Eddie Lampert's vision and the Sears empire," said Nina Kampler, founder of Kampler Advisory Group. "They are done with this retailer."
Mr. Lampert is trying to restructure the department store chain, aiming for Sears to emerge from bankruptcy protection as a stronger brand with a smaller store footprint. He made a $4.4 billion bid late December to keep 425 Sears and Kmart stores open.
A History of Sears: Through Highs and Lows
Sears, an American retail staple since 1886, has been struggling in recent years, closing stores, selling off assets and borrowing money. But it wasn't always this way. Gordon Weil, author of "Sears, Roebuck, USA," looks back on the history of the retailer. Photo: Getty
Otherwise, liquidators have made offers to acquire the stores and liquidate most, if not all, The Wall Street Journal has reported. A court hearing is scheduled for Tuesday to update the judge presiding over the bankruptcy case. Mr. Lampert and other bidders will likely have until a Jan. 14 auction to modify their offers.
Mall owners Simon Property Group and Brixmor Property Group were part of a creditors group that said the retailer's plan to keep stores open rather than pursue going-out-of-business sales would incur substantial expenses, without much expectation of success.
Sears is "pursuing an unjustified and foolhardy gamble with other people's money," the group said in court papers.
In court filings, Mr. Lampert's hedge fund, ESL Investments Inc. rebutted that charge by saying that Simon and Brixmor "have a vested interest in seeing Sears liquidate without regard to the interests of Sears' other stakeholders."
Mr. Lampert and his spokesman didn't respond to requests for further comment.
Landlords have been more patient with others that have filed for chapter 11 bankruptcy protection. Mall owners had fewer objections for turnaround plans offered by Payless ShoeSource Inc. and Mattress Firm Inc. The landlords' cooperation helped the two retailers complete their restructurings, which included new financing and retaining hundreds of stores.
On at least two occasions, mall owners even stepped in to save retailers from liquidation. Simon and mall operator GGP Inc. were part of a consortium that kept hundreds of Aéropostale stores open, while Washington Prime Group and Namdar Realty Group made an unsuccessful attempt at preventing Bon-Ton Stores Inc. from liquidating as they were unable to find enough funding. The department store operator closed 260 stores this year.
Not all landlords oppose Mr. Lampert, especially those without alternative plans for their Sears store. If a Sears is located at the back of the mall with poorer foot traffic, it will be harder to find a replacement tenant. In such cases, landlords may be more willing to cut rents to help retain the struggling retailer as a tenant.
But many landlords say Sears lost touch with consumers years ago. Shoppers complain of the poor selection of goods and store layout that hurt the overall appeal of the attached mall, some mall owners have said.
There are also signs that Sears isn't bringing is as much foot traffic as other department stores. The number of shoppers at Sears stores fell by 11% year-over-year during the recent Black Friday weekend, while shoppers to malls that are anchored by Sears rose 2%, according to data firm Thasos Group. By comparison, traffic at Macy's Inc. and J.C. Penney Co. stores rose 7% and 15% respectively.
Some Sears stores are in locations that developers consider "good dirt." These massive spaces could be split up and rented to other retailers or be torn down for development of other uses, such as apartments.
Taking back stores is important for landlords who want to regain cotenancy rights. These clauses allow tenants to seek reduced rents if an anchor tenant, such as Sears, or a certain number of tenants leave the shopping center. Sears has had control of these rights dating back decades, mall owners said.
Some rents are as low as $3 a square foot and account for a tiny percentage of overall rent revenue, mall landlords said. And if Sears owns the store, there is no rent. Any initial costs related to renovating a space for new tenants could be recouped with higher rents.
"There seems to be more value in the real estate than the rent Sears was paying," said Ami Ziff, director for national retail at real-estate firm Time Equities Inc.