Foothills Mall steps up with new flooring
Original post published at The Daily Times:  https://www.thedailytimes.com/news/foothills-mall-steps-up-with-new-flooring/article_1fb7d35a-59d8-5b03-9b7b-62a98b4133d6.html
Foothills Mall steps up with new flooring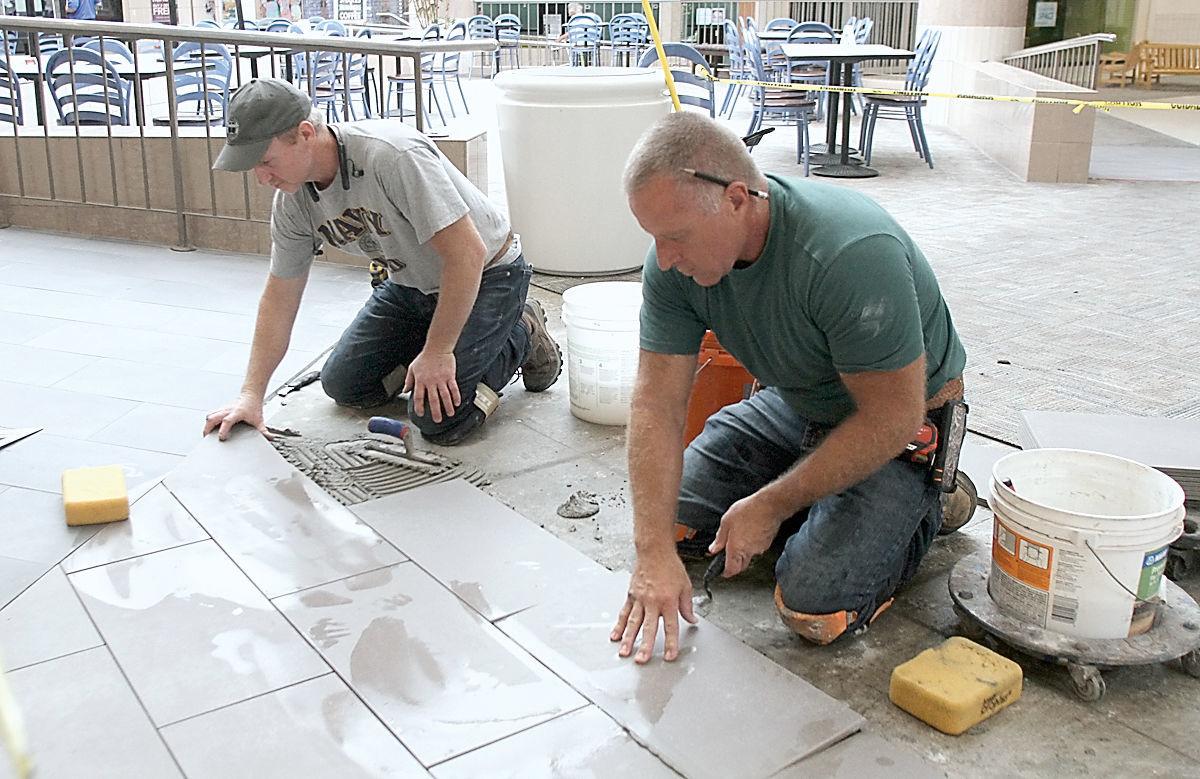 Two years ago, New York-based Time Equities Inc. bought Foothills Mall in Maryville and College Square Mall in Morristown for $53.5 million total.
Ami Ziff, director of national retail at TEI, described the purchase of the two malls as a "natural fit" for the company's expansion to the Southeast from its headquarters on Fifth Avenue in New York City.
"As brands and landlords continue to navigate the evolving retail market, College Square and Foothills Mall offer TEI the platform to showcase the next generation of the enclosed mall," Ziff said in a prepared statement in June 2017.
Considering the evolving retail market in this digital age and the fate of some formerly thriving malls, the yellow "caution" tape that is erected in some areas of Foothills Mall today could be read as symbolic of malls in the modern era.
But a look beyond the yellow tape reveals something more. Instead of just hanging on, the mall is stepping up. For example, the flooring of Foothills Mall is being redone. The brown and gray carpeting is being replaced with brighter, more modern colors and patterns. Most of the old carpet is giving way to ceramic and vinyl tiles that look like wood.
On Wednesday — talking by phone not via a prepared release — Ziff doubled down on that two-year-old pledge.
"We just paid $53.5 million to buy both properties, and I can assure you we'll continue to invest millions more," Ziff said. "We've been making improvements, both leasing and to the physical plant.
Ziff said he couldn't get into details about leasing arrangements, but pointed out the anchor space formerly occupied by the liquidated Goody's has a new tenant, Farmers Home Furniture. He noted the mall lighting has been replaced inside and outside with LED lights.
Jackie Crumpton, JCPenney store manager, said customers have noticed, especially the new parking lot lights.
"That lighting is great. We've had a lot of comments. It's really improved the parking lot and improved the safety at the mall," Crumpton said.
"It just shows that they're investing in this mall and in the community, and that's a good thing," Crumpton added.
Tia Spires, the mall's leasing and marketing manager, agrees. Her enthusiasm showed as she pointed out new areas of flooring already completed and beyond the yellow tape to where workers were laying tiles, a job she anticipates will be completed by the end of July.
"This is the dining area in front of the Chick-fil-A that had carpeting. Now it's wood-grained ceramic. Isn't it pretty? It's made it more open and brighter and easier to clean," Spires said.
Toward the other end of the mall, outside the now-closed Sears, is the area where Santa sets up shop during the Christmas season. That will get new flooring, too a 2-inch thick pad that will hold a swing set and other playground equipment. Ziff said planning is underway on final configuration.
Beyond bricks and mortar
Beyond the capital improvements, Spires talks of the activities to occupy children during summer vacation.
The movie theater, AMC Classic Foothills 12, is doing its part. On Wednesday's, AMC Summer Movie Camp features a kids-friendly film, popcorn and a drink for $4 for the kids. To top it off, Sires arranged another show for kids on Wednesday afternoon this week. Ripley's Aquarium of the Smokies outreach program brought Tails & Teeth to the mall, featuring sharks.
"In July, I've got Turtle Trek. I've got it on a Wednesday so the kids go to the movie. You wouldn't believe the families that stay here after the movie and eat at the restaurants and then take in the aquarium show."
Then there's Mr. Science, who has been featured on programs such as "Good Morning America."
"He's part of the STEM program. I had him at Christmastime for Santa's arrival, and the kids loved him. So I got him booked for back to school so he can do a performance at center stage. It's amazing what he does."
It's not all about the kids. The mall opens up at 6:30 a.m. for the Mall Walkers program geared toward seniors. Recently the mall spiced up the action by playing oldies music in the early hours before switching to adult contemporary at 10 a.m.
"They love it, it keeps them going. They comment on how much they enjoy the new music," Spires said.
She added that the physical plant upgrade has been a cooperative effort that includes Paul Kelterborn, director of design innovation for TEI and the Foothills Mall project director. The carpet/tile design layout was provided by onyx/creative out of Cleveland, Ohio.
What's next? As for filling the Sears space, that's up in the air as that section of the mall is not owned by TEI, so Ziff couldn't comment on that.
He did say that refurbishing the Foothills Mall entrances is likely next on the agenda. It all depends on what works.
"We take things in a phased approach. We've got a couple of other ideas, but nothing that we want to expose to the market yet. We like to make some improvements and then speak to the folks locally who really are benefiting from it and understand what's working and what's not and why and why not," Ziff said.
He was definitive about one thing — a commitment to Foothills Mall.
"We've got a lot of good ideas. We're long-term owners, so we're going to make this thing a hell of a lot better than it was," Ziff said.